SUMMER 2023 CAMPS & SHOWS
Every 2023 Forefront Arts camp will culminate in a public performance! 
Family & friends are invited to join us each Friday for the campers to show off what they've learned!

We've got something for everyone this summer!
Acting ~ Musical Theatre ~ Dance ~ Improv ~ Playwriting ~ Teen Productions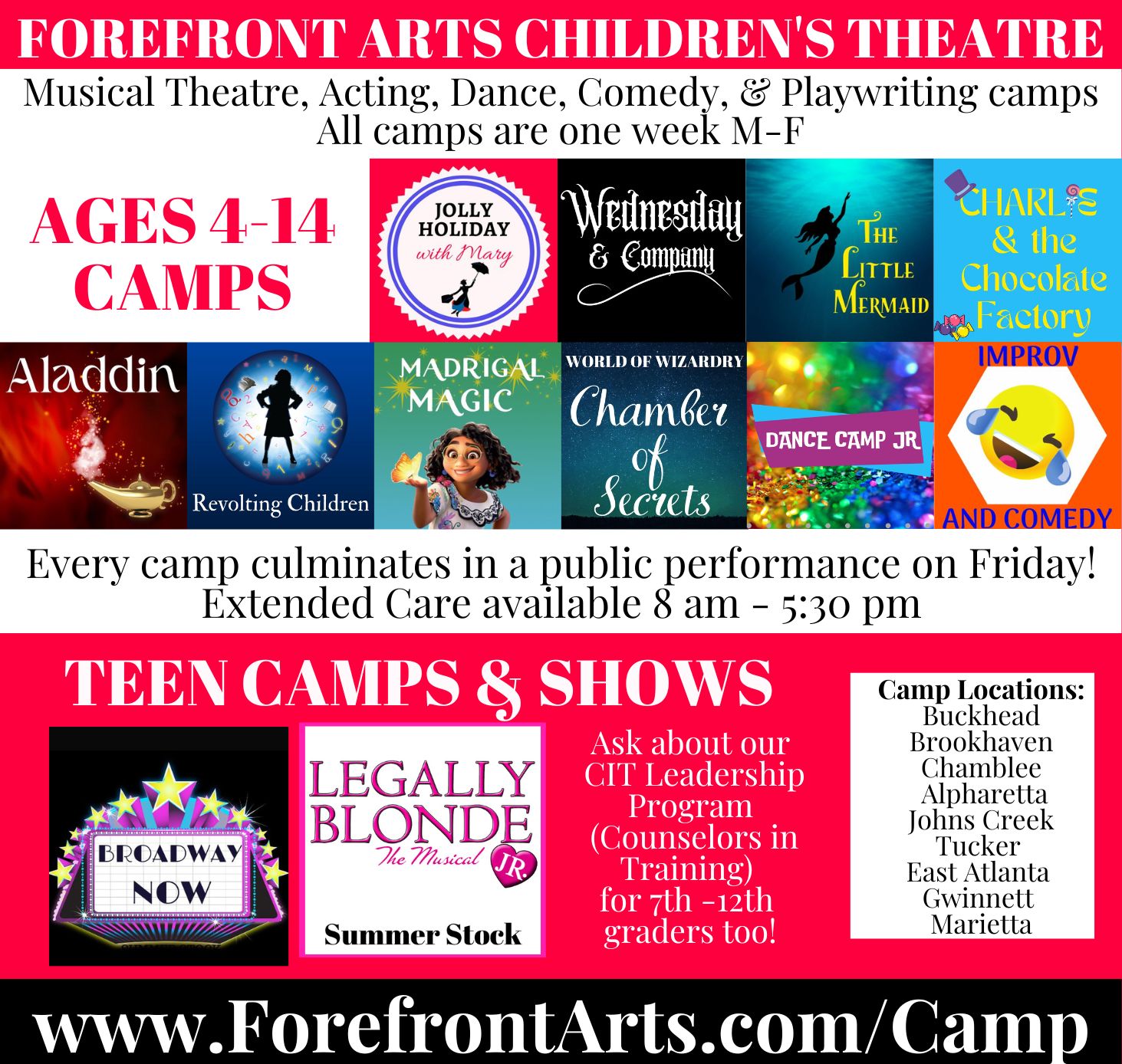 View an overview of our summer schedule HERE.  
(best viewed on a computer)
Enrollment Process:
this year families will enroll and pay for camps directly
through the parent portal! 
Current families and any student from the past 3 years already have a family account in the portal.  Your family account is linked to the primary parent email that you provided on your registration form.  If you don't know the password, click "forgot your password" and the system will email you login info.
New families will need to create an account in the parent portal to enroll in our program.
Online Registration Tips: Once you're logged into your family account click "Manage Students" to make sure your students' info is up to date.  Then click "Register for Classes" and select "Summer 2023".  
You'll be able to search by age, show, location, or dates to see your camp options on the registration page. After you've registered for the camp weeks you can add Early Drop Off or Aftercare, as well as camp souvenirs, via the
Online Store on the home screen of the parent portal
.
 You'll receive an automatic confirmation email with your receipt & list of camps you selected.
Camp Schedule, Pricing, & Descriptions: You can view the camp pricing, dates at each locations, and specific dates for each show in the parent portal.  Each camp listing also includes a camp description telling you what to expect from each theme!
Camp Options by region: click the links to see all camps in various metro-Atlanta areas:
ATL / ITP (Buckhead, Brookhaven, East Atlanta, Chamblee)      ATL / North West (Atlanta, Marietta, Alpharetta) 
 ATL / East (Gwinnett , Tucker, Chamblee).        ATL North (Alpharetta, Marietta, Johns Creek)
Camp Times: ages 4-5 will attend Half Day Camps (9am-1 pm Mon-Thurs and 9am-3 pm on Friday) // ages 5-18 will attend Full Day Camps (9am-3 pm). Teen Summer Stock rehearsal times will vary for their July 22-29 week.
Extended Care:
We offer Early Drop Off 8-8:50 am, and Aftercare 3-5:30 pm for working families.  After enrolling in your camp week, you can add extended care in the Online Store
in your parent portal.
(We'll include that info in your camp confirmation email too). 
Early Drop Off 8-8:50 am: $10/day or $40 for the week
Aftercare 3-5:30 pm: $25/day or $75 for the week
Early Drop Off AND Aftercare: $100 for the week
Camp Locations:
we partner with host locations across metro Atlanta.  This year's host locations are located in: Alpharetta, Johns Creek, Buckhead, Brookhaven, Chamblee, Tucker, Gwinnett (Lilburn/Lawrenceville border), East Atlanta, and Marietta.  
View the camp master schedule here!
Camp Shows: every camp culminates in a public performance on Friday!  The majority of camp shows will be on Friday afternoons, sometime 2-4 pm.  Due to host location logistics a handful of camps will feature Friday evening shows where the kids will leave camp at 3 pm and return Friday evening for their performance.  
"Legally Blonde" will culminate in 2 public performances on July 29.
Early Bird Discounts: Early Bird tuition is discounted $30-$50 over general camp tuition when registration first opens for the first 100 campers.  This year those early spots were claimed so quickly that we extended the early bird discounts an additional 36 hours through Sunday, Feb 5 at 10 pm.  All early bird discount spots have now been claimed.
Camp Special Offer:
Enroll in 3 weeks this summer and your 4th week will be free!
  No special code is necessary – simply enroll in 4 camps at one time and we will refund one week back to your card on file!  
Sibling & Multi-Week Discounts:
This year we are not offering sibling discounts.  Our multi-week discount is the biggest ever – an entire free week of camp!
Enroll in 3 weeks, get your 4th camp week free!
Camp Souvenirs & Merch:  
We have several keepsake souvenir options for you this year!  Families can order a camp tshirt or Showbear
in the Online Store in your parent portal.
We'll also have a discounted Souvenir Package which includes a camp shirt, Showbear, wristband, and keepsake pin/button! 
Teen Program Options: We've got some great performance options for our advanced students!  "Broadway Now" is a musical theatre intensive offered at the Atlanta campus and Alpharetta campus in June featuring acting scenes & musical numbers from recent & current Broadway shows (SIX, Hadestown, Beetlejuice, MJ, Moulin Rouge, and more!
Teens are also invited to join us for Summer Stock – a full-scale production experience learning an entire show in just 8 days in July!  This year's show will be "Legally Blonde"!  Rehearsals will be Saturday - Saturday, July 22-29, at St James UMC in Atlanta.  
Counselors in Training Leadership Program: 7th-12th graders are invited to participate in our CIT program this summer!  This is a great next step for students who have loved attending our summer camps but are now ready for a new summer challenge!  CIT positions are for one week at a time, Monday - Friday, 8 am-3:30 pm (or until the show is completed on Friday afternoon), and they'll select their CIT dates on the camp registration form.  They'll participate in daily staff huddles as an active team member, coordinate dropoff & pickup rotations, oversee leading some camp activities such as warmups and drama games, act as a buddy for campers needing some extra love & attention, serve as a stage manager during the Friday performance and overall assist the directors with bringing the camp show to life.  The weekly tuition is $250 which includes their staff oversight from our directors, CIT staff shirts, and additional leadership resources & training provided by our team before their CIT week. At the end of the summer we will celebrate all of our CIT leaders with a special outing!  Beginning with 2023, all leadership students must complete at least 1 CIT assignment before being offered an Internship the following year.  We have 1 or 2 CIT positions available each week.
CLICK HERE TO ACCESS THE PARENT PORTAL TO VIEW SCHEDULE, PRICING, AND REGISTER!