DRAMA & DANCE PROGRAMS AT BENTEEN ELEMENTARY
Programs are offered through partnership with Preferred School Care at Benteen
(Benteen Elementary, 200 Cassanova St SE, Atlanta GA 30315)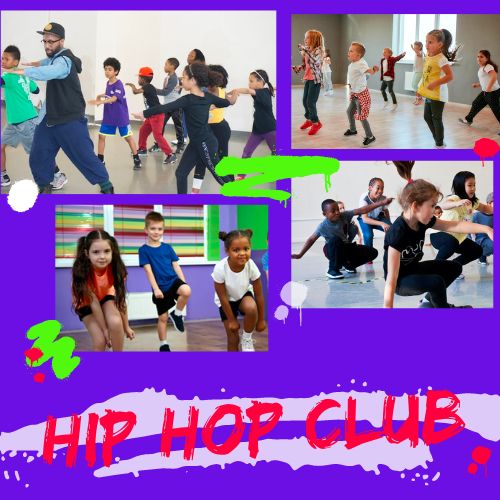 High Energy and FUN active dance class for guys & girls, culminating in a spring recital! 
Jr Hip Hop Club 
PreK - 1st
Mondays, 3-4 pm
Hip Hop Club 
2nd - 5th
Mondays, 4-5 pm
Scroll Down to Register!!!
 
Boost your confidence onstage while focusing on your rhythm & dance skills!  Hip Hop Club / Jr Hip Hop Club features fun warmups, physical challenges, dance technique, and performances of fun (and age appropriate) hip hop dance routines! All levels of dance experience are welcome to join the fun. Throughout the year the class will learn various dance numbers, culminating in a dance recital in the spring! 
Jr Hip Hop Club / Hip Hop Club runs for the full schoolyear, September - May and culminates in the dance recital at the Forefront Arts Spring Showcase in May 2024! Hip Hop students are encouraged *but not required* to perform in the dance recital.
Enrollment in Benteen Hip Hop Club / Jr Hip Hop Club also entitles students to participate in various Forefront Arts community events (Parent Night Out, Talent Show, Holiday Parade, etc)
HIP HOP CLUB / JR HIP HOP CLUB IS DESIGNED TO RUN FOR THE ENTIRE SEASON, SEPTEMBER - MAY, BUT STUDENTS MAY WITHDRAW BETWEEN SEMESTERS IF NEEDED. NOTICE OF WITHDRAWAL MUST BE SUBMITTED TO "REGISTER@FOREFRONTARTS.COM" BY NOVEMBER 30, 2023 SO WE CAN OPEN YOUR SPOT FOR SPRING SEMESTER.   WHEN ENROLLING YOU ARE COMMITTING TO FALL SEMESTER.
2023-2024 HIP HOP DRESS CODE
Stay tuned!  Dress code info for each class will be updated soon!
2023-2024 HIP HOP CLASS DATES
All Forefront Arts classes at Benteen will begin the week of September 11th and will follow the APS school calendar.   
We have set the class calendar for 27 classes over the course of the season but only charged tuition for 25 classes so if a class has to be canceled due to bad weather or teacher illness we will not need to schedule a make-up lesson.
FALL DATES:
Begin: September 11
End: December 11
Fall Dates with no classes: October 9, November 20
SPRING DATES
Begin: January 8
End: May 6
Spring Dates with no classes: January 15, February 19, April 1
Spring Showcase Recital Dates: May 10-12, 2024 (exact date/time TBD)
2023-2024 ENROLLMENT & TUITION DETAILS
A single $35 registration fee covers all Benteen dance & drama programs for the school year!  This fee covers your child's insurance to participate in our programs as well as administrative expenses associated with processing & confirming your registration, monthly class newsletters, and periodic special programs offered to the entire Forefront community.
Classes are a 1-semester commitment.  Fall enrollment automatically carries over to the spring semester unless you provide written notice of withdrawal by emailing Register@ForefrontArts.com by 11/30/2023.  Your child's spot in the various Benteen dance & drama programs is reserved for the year through May 2024 unless you choose to withdraw from spring semester by 11/30/2023 so that we can open up your class spot for a new Spring student.
Enrolled dance & drama families are required to have a card on file in our secure studio software for automatic billing purposes.  Tuition Installments or any class fees will be automatically charged to that card.  You can update the card on file at any time.  
The Dance Recital is included in your Hip Hop Club tuition!
HIP HOP TUITION OPTIONS:
We offer 3 tuition options: upfront for the season, 2 semesterly installments, or 10 equal monthly installments.
$69/month x 10 installments (August - December for Fall / Jan - April 15 for Spring) 
$325 x 2 Semester Installments (at registration for Fall, and Jan 1 for Spring) -- save $49!
$625 upfront (at registration) -- save $74!
INSTALLMENT PLANS EXPLAINED:
The total cost for the year can be evenly split into installments for convenience & affordability.  All installment plans must be paid in full by April 15, 2024, and all accounts must be up-to-date for students to attend class or participate in performances or events.  For monthly installments you will pay the same whether your class meets 3, 4, or 5 times that month because you are not paying for those specific weeks in the month, but rather a straight installment plan for the total year.  Enrollment is not month-to-month.  If selecting an installment option families are committing to paying the full amount for the semester, simply split up into smaller monthly payments.