YOUNG ACTORS ENSEMBLE PRODUCTION TROUPE
& SING YOUTH SHOW CHOIR
Locations in Atlanta or Alpharetta 
 5th-12th grade performers
~ perform in Narnia, Beauty and the Beast Jr.,
SING Winter Cabaret, & SING Spring Recital ~ 
**CLICK HERE FOR OUR GWINNETT YOUNG ACTORS ENSEMBLE INFO**
Check out the video below to see why our students love performing at Forefront Arts!!
Perform 4 shows during the 2021-2022 season:
"The Lion, The Witch, and The Wardrobe" in November 2021
"Greatest Showman" themed SING Winter Cabaret in December 2021
"Beauty & the Beast" in April 2022
"Magic on Broadway" Spring Recital in May 2022 
with selections from "Wicked", "Pippin", & "Matilda"!
~ August 2021 - May 2022 commitment
 ~ Once/week rehearsal includes a performance technique class built into the rehearsal time
~ Work with dedicated professional theatre teaching artists to boost your performance skills
~ Join our SING: Youth Show Choir directed by Miss Haley for an extra hour of vocal training and fun each week! While optional, we HIGHLY encourage YAE members to join our show choir. SING members will perform in a winter cabaret and spring recital. 
~ SING: Youth Show Choir will rehearse from 5-6 pm and students will get a dinner break from 6:00 - 6:15 pm during YAE vocal warmups. 
 ~ Students must audition to join the YAE  and SING troupes. All levels of theatre and vocal experience are welcome to audition!  Audition details below.
~ SING Parent Involvement: Low. Just transport your student to our rehearsals and come see the performances!
~ YAE Parent Involvement: Moderate.  Each family will join a committee to assist with Bootcamp Weekend each semester, and 1 volunteer slot during performance week.  A Buy-Out option for the parent committees is also available for families wanting a lower parent time commitment!
TROUPE REHEARSAL DETAILS:
ALPHARETTA TROUPE
LOCATION:
Union Hill Church, 4250 McGinnis Ferry Rd, Alpharetta 

DAY & TIME: 
SING: Youth Show Choir Tuesdays, 5:00-6:00pm (drop-off @ 4:45)
YAE Tuesdays, 6:00-8:45pm (drop-off starts @ 5:45pm)

Plus one additional Friday evening rehearsal each month and one Bootcamp Weekend each semester
ATLANTA TROUPE
LOCATION:
Peachtree Road Church, 3180 Peachtree Rd NE, Atlanta

DAY & TIME: 
SING: Youth Show Choir ~ Thursdays, 5:00-6:00pm (drop-off @ 4:45; dinner break 6:00 - 6:15)
YAE ~ Thursdays, 6:00-8:45pm (drop-off @ 5:45pm)

Plus one additional Friday evening rehearsal each month and one Bootcamp Weekend each semester
**CLICK HERE FOR OUR GWINNETT YOUNG ACTORS ENSEMBLE INFO.
GWINNETT YAE WILL HAVE A SLIGHTLY DIFFERENT SCHEDULE.**
TROUPE TUITION DETAILS: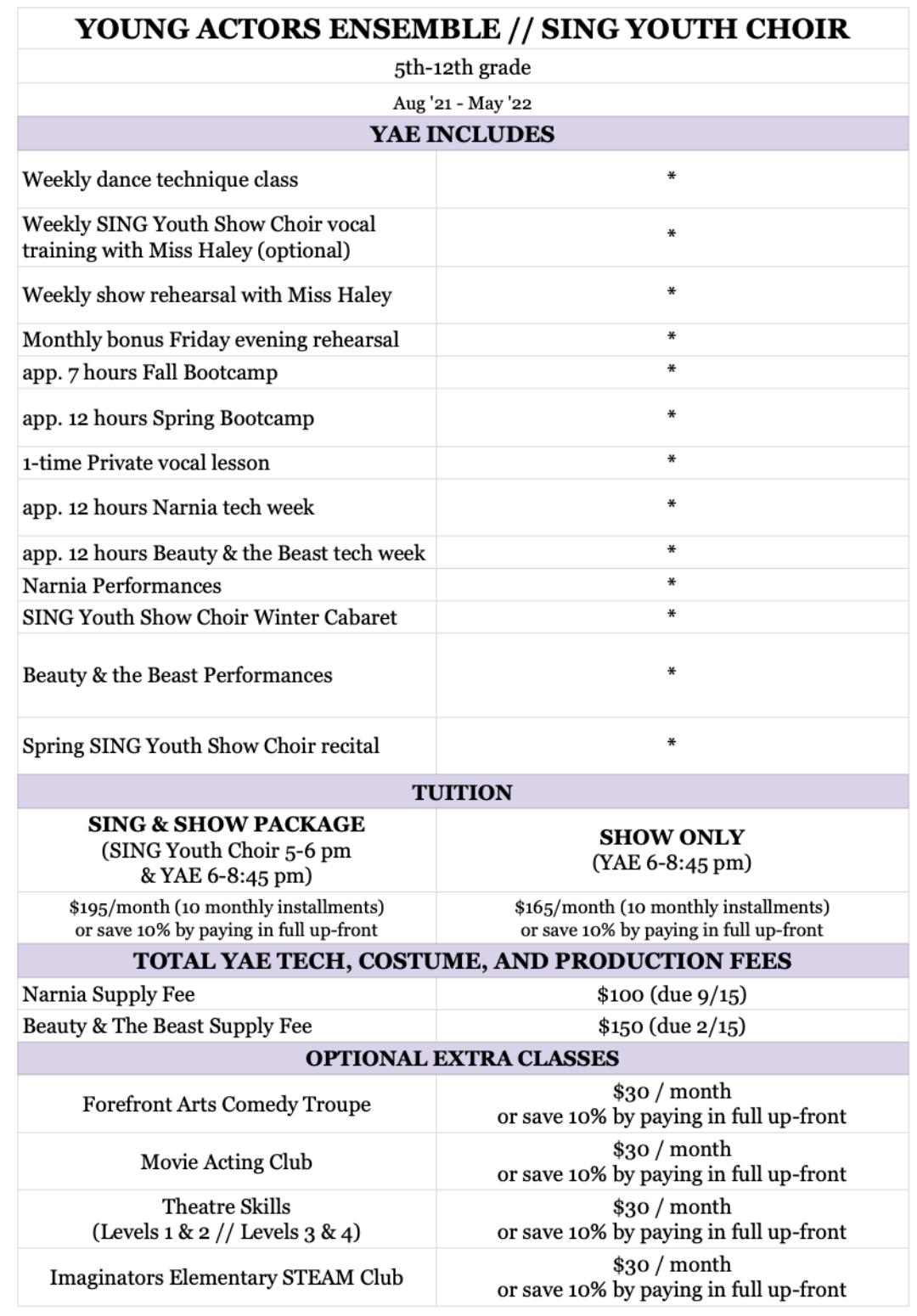 TROUPE AUDITION & ENROLLMENT PROCESS:
Troupe Size will be limited to ensure tons of personal attention & time onstage! 
Once we have filled one cast, we will begin a waitlist for a second cast to open at that location.
Auditions for 2021-2022 YAE / SING members are first-come, first-serve! Each audition slot will be a private 15 minute zoom meeting for the student to perform a 1 minute musical theatre song & a 1 minute monologue, and a brief parent/student interview with our staff. Auditions will be scheduled after students register for the troupe. Auditions will be held on Tuesdays and Thursdays from 4-6pm. 
**There is a $35 registration/audition fee per troupe spot which will be automatically collected on the registration form.  If you are offered a spot in YAE and/or SING Show Choir your first tuition installment or the season tuition in-full will be processed when you return your enrollment contract.**
READY TO AUDITION FOR OUR YAE
AND/OR SING: YOUTH SHOW CHOIR TROUPES?